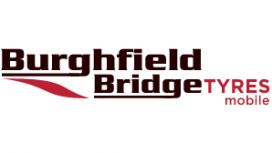 BBTm are allied to our sister company, Burghfield Bridge Tyres, who have been operating from garage premises in Burghfield since the 1990s.
We offer new and part worn tyres. Part worns are very popular as they still provide thousands of useful miles at a much lower cost than new. They are a great option if you simply need to get your car through its MOT without breaking the bank. Otherwise, we will give you price options for premium, mid-range and budget new tyres.
---
Services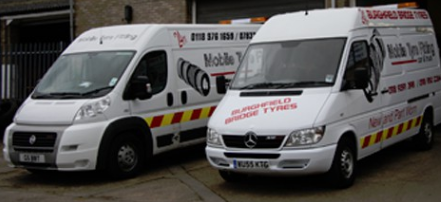 Mobile tyre fitting brings the expertise of the garage to you in a convenient and cost effective manner - it really couldn't be simpler.
Why take time out to visit a tyre depot when the tyre depot can come to you..?
If the prospect of reading out-of-date magazines in a draughty waiting room doesn't appeal to you, a mobile service is the ideal solution. Judging by the steady increase of our mobile business, more and more people are opting for us to come to you.. and as your recommendations to family and friends continue, our business is looking to challenge our most hardened garage based competitors.
Fast, convenient and affordable, mobile tyre fitting enables us to change your tyre wherever, whenever, come rain or shine. Open 7 days a week, our fully equipped fleet of vans travel across the whole of Berkshire, North Hampshire, Oxon and Bucks, repairing and replacing your tyres at home, the office and at the roadside*.
Following your call to us, we provide a cost based choice of tyre brands (for new replacements) or will source the correct match from our part used stock. Ultimately, our mobile tyre fitting service enables you to get on with your daily tasks, whilst we deal with your tyres saving you time, money and hassle.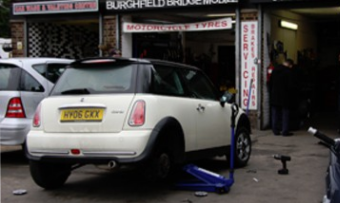 Despite the popular belief that tyres are merely black, round and made of rubber, there are a surprising number of things to consider when purchasing a new tyre.
Your vehicle is almost solely dependent on the safety of your tyres, whether it is how much tread is left on the tyre, their stopping distance or even how they handle on wet roads.
Therefore, our mobile tyre fitters have put together this handy guide on the various factors to consider when purchasing your new tyres.
Reviews and Ratings
We do not have any reviews about Burghfield Bridge Mobile Tyre Service available right now.