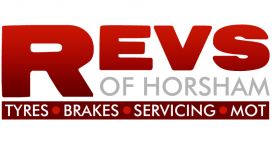 Formed in 2010, and with a combined 15 years of experience between our fully trained at staff, we believe in treating our customer's cars as if they were our own.
The Revs of Horsham workshop is fully equipped, our technicians completely qualified, and we are fully insured members of the FSB. We pride ourselves in being able to provide a friendly, helpful, servicing experience. In addition, we are able to pass savings to our customers, since we do not use a franchise name and boast some very competitive labour rates.
The safety of you and your car is extremely important to us. We therefore provide free brake and tyre checks on every vehicle, and use only the most up-to-date diagnostic systems, ensuring all our customers enjoy a safe and reliable motoring experience. All Revs works is guaranteed, from light bulb changes to engine rebuilds, and Revs are happy to offer a same-day service.
---
Services

We believe Revs is the best full service and repair car centre in the Horsham area. That belief is backed up by the comprehensive array of services we offer. We can deliver competitive rates and the highest quality work in the area.
Tyres:
Poor condition tyres can be dangerous, illegal, fuel inefficient and invalidate your car insurance. If you are uncertain that your tyres currently meet the required standards, we will happily carry out a free tyre inspection for you. Should your tyres need replacing we can offer a competitive same-day service, and will both supply and fit the tyres. We will also happily fit any customer supplied tyres. We only use modern tyre changers and wheel balancers, and have access to over 30,000 tyres, from leading brands to budget tyres.
MOT:
We offer MOT bookings for your yearly check-up. Drop your vehicle off with us and your MOT will be carried out quickly, and to the highest standard. We will also undertake any essential work for you, should your car fail its MOT, including MOT welding.
Exhausts:
The exhaust system is one of the hardest working components of your car, constantly under stress as it channels harmful gas from the engine to the back of your car, while the catalytic converter removes most of the toxins. If your exhaust is damaged or heavily corroded it can leak, causing the gas to be released into the interior of your car. Obviously, this puts you and your passengers at extreme risk, so it is important that your exhaust system is checked regularly.
Brakes:
It goes without saying that maintaining efficient brakes is vital to your vehicle's safety. Nor do the dangers of brake failure need to be illustrated. Regular safety checks, perhaps as part of a full service, can offer peace of mind. Or if you would prefer, we can offer a free brake check by qualified technicians, with competitive follow-on work, if required. We will also perform suspension checks upon request.
Tracking:
Tracking is the alignment of the wheels of your car. Often, badly aligned wheels are the cause of reduced fuel efficiency, reduced handling, increased tyre wear and reduced breaking efficiency. A leading cause of this problem is simply hitting a curb. Even this small impact can be enough to misalign the tracking of your car. Our workshop is equipped with the latest 4 wheel laser tracking aligner, allowing us to make precise adjustment and ensure your car will be tracked as accurately as possible.
And more!!!
Reviews and Ratings
We do not have any reviews about Revs of Horsham available right now.