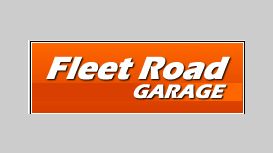 We are not Kwik Fit, Formulae 1 or any of the other franchise networks that have so called Technicians, Mechanics on bonus, you are trained to maximise the amount of repairs need on a car they have at their site. We are a relatively small company who have 5 employees dedicated to ensuring that our customers have the very best possible service at a reasonable cost for work that is definitely required. We like to show our customers the items that require work on their vehicles, up on the ramp if they want, so that they have a better understanding of the concerns on their vehicle.
Yes we do dedicate the time required for this process and do it time and time again every day. A customer booked her vehicle for a full service. After a period of time she called to see how it was doing and we advised we had found a number of items that needed attention. Some immediate, and some in the not too distant future.
---
Reviews and Ratings
We do not have any reviews about Fleet Road Garage available right now.